nutrition, lifestyle
I love Keri! This incredible woman and I have created such a beautiful friendship over the years. I cherish this so much. The moment I met Keri I knew we were going to be great friends. And not just friends, but lifelong friends. We talk about life, work, relationships, etc., you name it we have talked about it! If you know Keri, you know she loves to chat so when we talk, we talk for hours (she is just one of those girlfriends you love to share things with). Her passion for changing lives and working SO damn hard is something that I love and admire most about her. She is one of the girls who is not afraid to get her hands dirty and grind it out. She is that person you can always rely on and her work quality is nothing short of amazing. It's no wonder that she is on every TV show because she just "gets" it and always delivers a premium experience. Kids, take notes here!! Just showing up will not get you the job. You have to be willing to work so freaking hard and do things that most people would not do. That's what it takes to make it. Throughout our careers Keri and I have done numerous things together and it is always such an honor working beside her. I honestly feel so lucky when I am working with her. Her years of experience mixed with her passion for helping others is one of the reasons this lady is so successful and impactful! She is truly brilliant, as well as highly educated, which makes for an unstoppable combo. One thing Keri has taught me is to always believe in your vision and NEVER give up ... things will get messy, hard, frustrating and exhausting, but remember why you love what you do and always keep going. There are many days where I am at my desk searching for answers (aka hoping they will fall out of the sky) and I tend to ask myself, "What Would Keri Do?" I know what she would do ... out work everyone else and figure it out! I am not sure if you know this, but Keri is also an amazing athlete and was in college too, so she and I share that competitive "go get it" | "get it over the finish line" mentality. My weekly "What Would Keri Do?" question is a great reminder that hard work and dedication will always pay off ... no matter what, stay focused and work hard.
Keri, I love you like a sister and your friendship and guidance mean the world to me. Thank you for sharing your story with us and thank you for being such an inspiration to us all. I hope you all enjoy her story, learn about her amazing Nutrition School and dig into her healthy salad recipe. Love you forever Keri! xxx Nat
LOCKER ROOM CHATS X KERI GLASSMAN
Keri glassman is a nutritionist, registered dietitian, healthy cooking expert, published author and an amazing mother of two
1. WHAT'S YOUR WHY? My mission has always been to help as many people as possible raise their nutrition as much as possible and live their most Nutritious Lives! This is why I created The Nutrition School, to reach even more people!
2. THREE QUALITIES THAT HAVE MADE YOU SUCCESSFUL? Resiliency, PassioN, Hard worker
3. moment you felt like you made it? I don't know that I've had it yet.
4. First big break into the biz? Fox News segment when I was pregnant with my son!
5: the moment you almost quit? There have been a few. But one that sticks out in mind is when I was getting divorced, I was moving out of my apartment, I had two young kids, I was in debt, I was tired - in all ways - and I found out a big tv project (that dream kinda project) I had been working on wasn't happening. I was burnt out, stressed out and exhausted from life.
6. FAVORITE workout song? Empire State of Mind - (am I such a cheeseball?)
7: top beauty secret? Coconut oil for everything!
8:favorite way to sweat? hike
9. what age did you get into the business? 24
10. mindset means? what is going on in your mind. How are you talking to yourself? How you are talking to yourself about the world around you. Are you in a "everything sucks right now this day is going to blow" mindset or do you stay in a "I can conquer anything and everything that comes my way today" mindset? It is hard but staying in a good, healthy mindset is critical to happiness and success.
Keri'S FAVORITE THINGS:
1. Life's Abundance green powder, which you can buy here http://bit.ly/2iqi7jp. It is a supercharged blend that nourishes the body with a blend of raw, certified organic grasses and certified organic mushrooms that I helped develop with busy lifestyles in mind. It turns any water bottle into a green juice and has a light berry taste. I don't know what I would do without my greens every morning!
2. A travel hand sanitizer spray. I live in New York City. Need I say more?
3. Organic dark chocolate. Yes, my passion is nutrition - the study of food and I LOVE food, including chocolate. There is always a place for conscious indulgences.
4. Honest beauty lip gloss - I love to go as makeup free as possible but a girl's gotta keep it together and this gloss does the trick.
5. Frankincense - super easy to glide on temples when you need a moment of zen.
6. SW Basics - facial oil - my skin is super dry and I love oils - especially from clean brands like this.
Keri, has built an incredible education platform called "The Nutrition School!" If you are interested in learning from THE BEST in the biz I would highly suggest getting involved. You will learn all of Keri's tips and tricks and be personally coached by her and her amazing team throughout the entire process! If you have any questions you can alway reach out to Keri on Instagram! Follow Keri @NutritiousLifeOfficial - it's where Keri posts all the fun behind the scenes videos of her workdays at the Today show, Refinery29, Rachael Ray Show and so on...!
The Nutrition School! - If you have a passion for learning more about nutrition, or have ever dreamed of becoming a health coach or pursuing a career in wellness, the Nutrition School will give you it all. Nutrition education, business advice, videos from nutrition experts, all the way down to the tools and handouts to use for when you make the jump to pursuing your passion. You can apply HERE: http://nutritiouslife.com/tns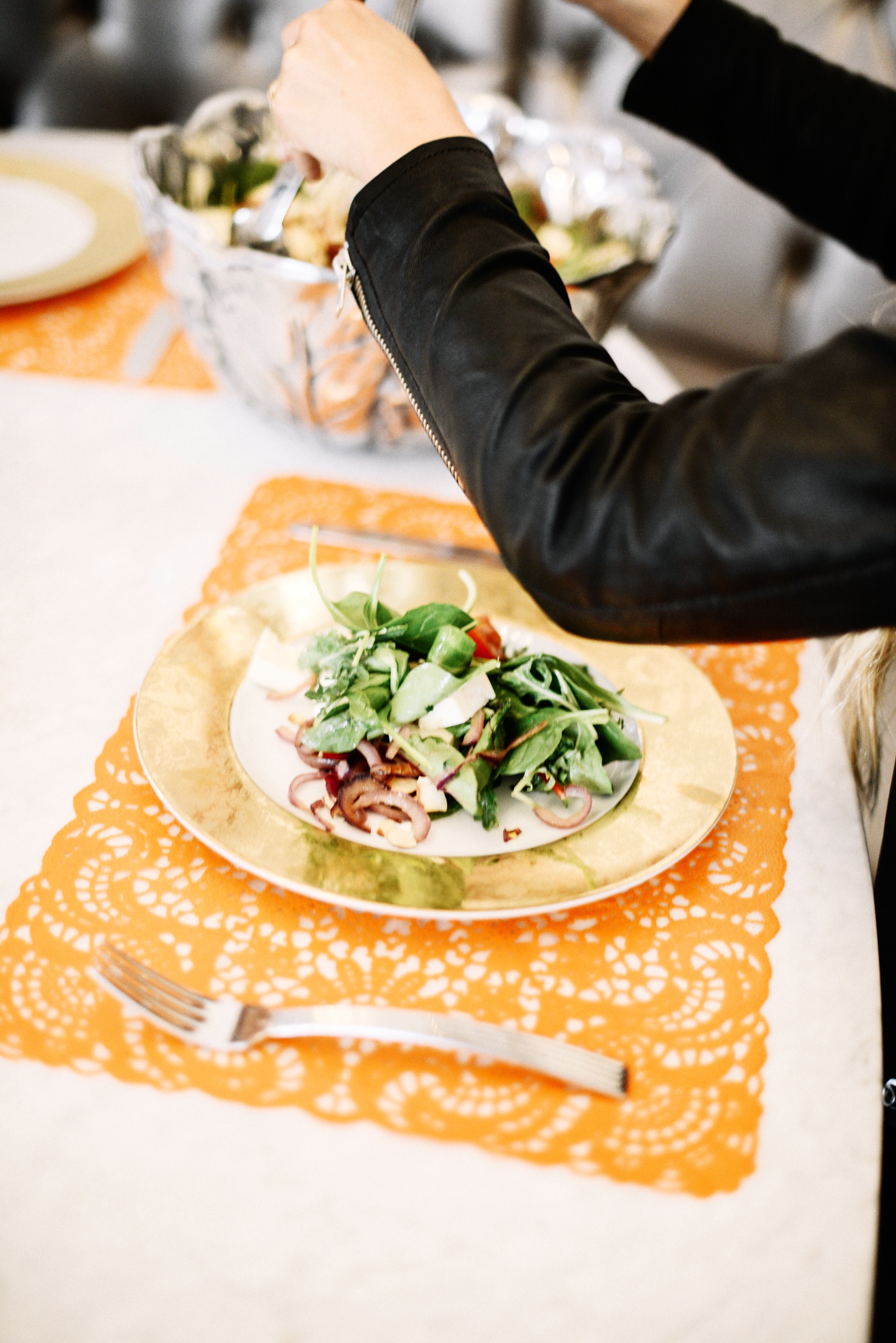 Keri's Healthy Lunch Salad
MAKES 4 SERVINGS
INGREDIENTS:
SALAD INGREDIENTS:
Greens (I used spinach and arugula, use whatever I have around!)
Sauteed red onion
Tomato
Feta cheese
Added: Grilled chicken, chick peas, or both!
dressing:
Cold pressed organic olive oil, balsamic vinegar, sea salt, pepper
Start with equal parts oil and vinegar, mix until well combined, and taste before dressing and tossing with salad.
DIRECTIONS:
In a large salad bowl mix together all the fresh ingredients.
After that is complete start mixing your dressing, which btw is so good and so easy!
Add the dressing to the salad, toss and ENJOY!